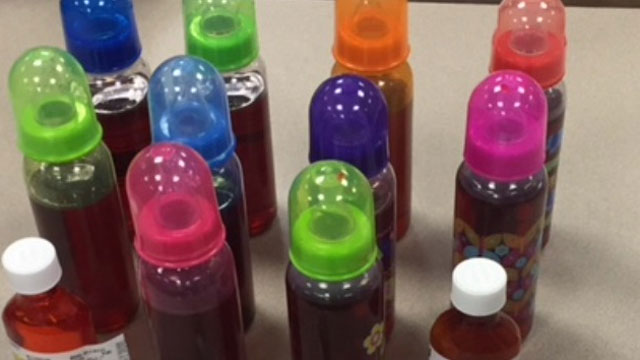 Several bottles of "Sizzrup" (100 Ounces) and two prescription bottles of Promethazine with Codeine Cough medicine seized by police. (Hartford Police Department)
HARTFORD, CT (WFSB) -
Two Connecticut residents were arrested in Hartford after police said the men were selling large amounts of "Sizzurp."
"Sizzurp" is "Promethazine with Codeine Cough medicine mixed soda," according to police. The drug gives the user "a euphoric high," police added.
Detectives from the Hartford Police Department Vice and Narcotics Division started investigating 22-year-old Miguel "Miggy" Ortiz, of East Hartford, during September and October.
After detectives conducted several controlled purchases with Ortiz, investigators seized 60 ounces mixture of Codeine and Soda.
After obtaining an arrest warrant, detectives stopped the vehicle being used by Ortiz to conduct deals in Pope Park. Police said inside the vehicle, they found several bottles of "Sizzrup" (100 Ounces) and two prescription bottles of Promethazine with Codeine Cough medicine as well as a bag of marijuana.
Ortiz as well as 21-year-old Aiveniece Estrada from New Britain were charged with possession of narcotics, Illegal obtaining/sale of prescription medicine, possession with intent to sell narcotics, conspiracy sale of narcotics.
Copyright 2016 WFSB (Meredith Corporation). All rights reserved.