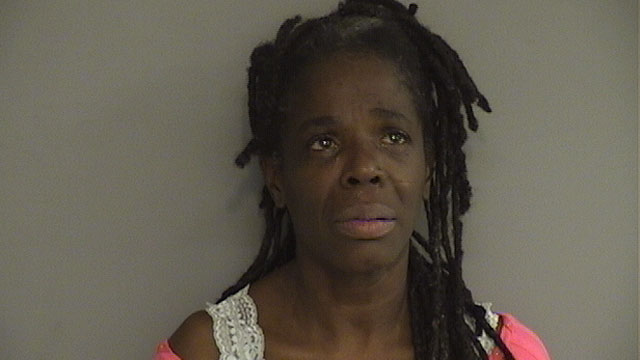 Shirley Jenkins was arrested after police said she threw a piece of asphalt curbing at her boyfriend. (Middletown Police Department)
MIDDLETOWN, CT (WFSB) -
A Middletown woman was arrested after police said she threw a piece of asphalt curbing at her boyfriend and hit him in the face on Saturday evening.
Officers were called to the Forest City Liquor Store, which is located at 610 Main St., around 6:30 p.m. where they found the victim. Police said the man had a laceration on his face after he said he was assaulted by his girlfriend.
Police located 54-year-old Shirley Jenkins on Ferry Street a short time later. Jenkins told police "I always get blamed for everything. I didn't do it. It was somebody else."
Jenkins was asked if she assaulted the man and shes did not have an answer for officers.
During their investigation, police learned that the victim and Jenkins were in the alleyway in between Fangs and 80 Ferry St. Police learned that after an argument, the victim swore at Jenkins and spit in her direction. After walking away from her, police said the man sat on the curb.
Police said Jenkins "walked up behind him and hit him in the face with a large piece of asphalt curbing, which was in the alley way." She was charged with breach of peace and third-degree assault.
Investigators determined that Jenkins "has a history of injuring him and had stabbed him in the past due to domestic violence."
Jenkins was scheduled to appear at Middlesex Superior Court on Monday.
Copyright 2016 WFSB (Meredith Corporation). All rights reserved.