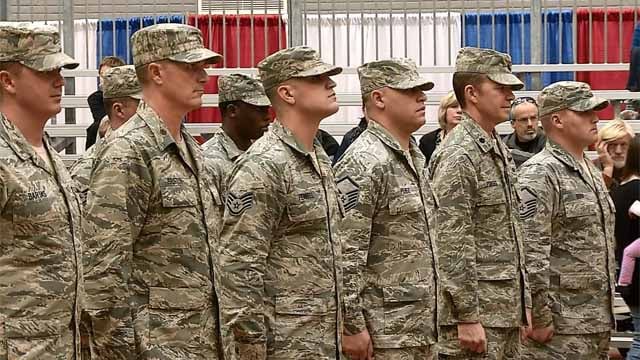 100 National Guard members are headed overseas later this month (WFSB)
HARTFORD, CT (WFSB) -
On Tuesday evening, love ones of 100 local heroes said 'goodbye' and 'good luck.'
Members from the Connecticut National Guard 103rd Air Control Squadron were honored in a ceremony in Hartford, before they head off to the Middle East later this month.
The guardsmen and guardswomen said they are proud to serve, but being deployed right before the holidays is a huge sacrifice.
This squadron has been deployed to the Middle East seven times since 9/11, but of course many of the young guardsmen are going overseas for the first time.
Staff Sargent Edward Clark from Naugatuck says he's more concerned about the toll his service is taking on his loved ones.
"My family is way more concerned about it than I am, it's also hard on me because I know the type of burden and type of things that they're thinking about and worried about for where we are going," Clark said.
The deployment be for six months.
Copyright 2016 WFSB (Meredith Corporation). All rights reserved.