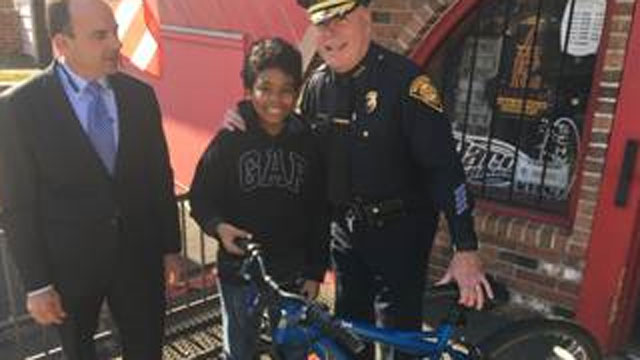 Officers got a Bridgeport teenager a new bicycle after he was attacked and robbed last month.  (Bridgeport Police Department)
BRIDGEPORT, CT (WFSB) -
Officers got a Bridgeport teenager a new bicycle after he was attacked and robbed last month.
Kyle Marrero, 14, was the victim of an assault and robbery on Oct. 16. Police said two men armed with guns assaulted him and took his bike.
After detectives met with Marrero's mother, police said they decided to buy him a new bicycle.
"Kyle is a good kid and this is the least we could do to cheer him up and get him back out riding his bike where he belongs," Bridgeport Police Chief Armando "AJ" Perez said in a statement on Wednesday.
Employees from Spoke and Wheel on East Main Street built a new bike for Marrero and on Wednesday, he received it from police.
"We have zero tolerance for anyone in this city who would do violence or intimidate someone out having a good time just to steal their possessions. But while we're out every day investigating crimes and dealing with bad actors, we also do what we can to help out the victims of crime and that is what we are here for – to serve the residents of Bridgeport. I commend the generosity of our detectives who out of the goodness of their hearts were able to arrange Kyle a new bike. They are true role models to their colleagues and our community," Perez said.
Copyright 2016 WFSB (Meredith Corporation). All rights reserved.