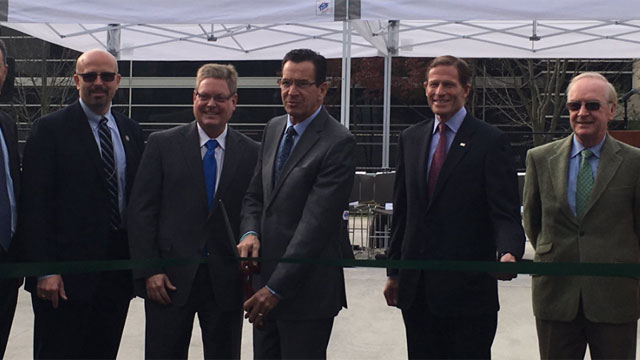 Gov. Dannel Malloy was cuts ribbon for fuel cell power at Pfizer in Groton (WFSB)
GROTON, CT (WFSB) -
Pharmaceutical giant, Pfizer got greener on Thursday.
Gov. Dannel Malloy was on hand at Pfizer's sprawling R&D Center in Groton to commemorate the installation of a 5.6 mega-watt fuel cell power generation system.
The on-site power plant will allow scientists to work un-interrupted without a loss of power on drug discoveries and development.
"The self-reliance this plant affords us it provides that stability and reliability of operation that we need," Michael Lallies with Pfizer said.
The new fuel cell system was developed and built by Danbury-based fuel-cell energy and installed by Connecticut companies.
Copyright 2016 WFSB (Meredith Corporation). All Rights Reserved.