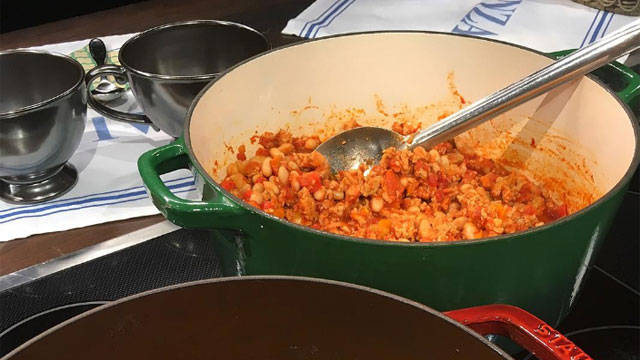 ngela Baldanza from Baldanza's Café stopped by the studio Saturday morning to share an amazing Turkey Chili recipe with us. (WFSB)
ROCKY HILL, CT (WFSB) -
Angela Baldanza from Baldanza's Café stopped by the studio Saturday morning to share an amazing Turkey Chili recipe that is perfect for these cooler fall days.
Ingredients:
1 tablespoon olive oil
1 cup chopped sweet onions
1 tablespoon minced garlic
1/4 cup chopped red and yellow bell peppers
1 pound ground turkey
1 (28-ounce) can of crushed organic tomatoes, undrained
1 (16-ounce) can cannellini beans, drained and rinsed
1 tablespoon chili powder
1 tablespoon salt
1 tablespoon pepper
2 tablespoons cumin
1/2 teaspoon cayenne
3 tablespoons of tomato paste
1 tablespoon Dijon mustard
Directions:
In a large skillet sauté onions, garlic and bell peppers over medium heat until onions are translucent.
Add all the remaining ingredients and simmer over low heat for 1 hour stirring occasionally.
Makes 10 servings.
Angela said the chili is great served with corn bread, diced onions, cheese and sour cream to top.
Copyright 2016 WFSB (Meredith Corporation). All rights reserved.