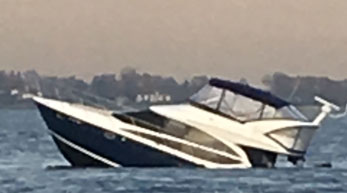 Fire crews rescued 12 people from a boat taking on water in Long Island Sound. (Stamford Fire Department)
STAMFORD, CT (WFSB) -
A dozen people were rescued on Monday afternoon after their boat took on water in the Long Island Sound.
The boat, which was about 39 feet long, was reported in distress off Shippan Point around 1:15 p.m.
"The tide was unusually low in this area due to the "Super Moon" and played an unfortunate role in the accident," Stamford Fire Officer Michael Dragonetti said in a release on Monday.
Firefighters on the Stamford Fire Boat 236 were able to safely evacuate all the people on the boat. There were no reported injuries.
"There were no injuries to the passengers because of the aggressive response of Fireboat 236 and its crew," Dragonetti said.
The Coast Guard, the Greenwich and Stamford police departments along Stamford EMS assisted in the rescue.
Copyright 2016 WFSB (Meredith Corporation). All rights reserved.