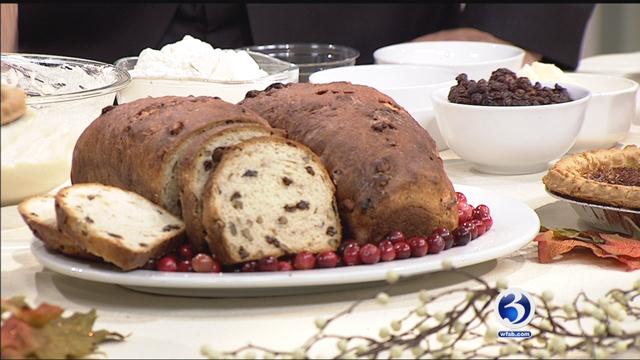 (WFSB)
ROCKY HILL, CT (WFSB) -
Stew Leonard's stopped by Sunday morning to share the recipe for Grandma Leonard's Nut Bread.
To start, warm together 2 cups milk, 1 package dry yeast (or one cake) and 2 tablespoons sugar. Let sit until yeast is dissolved. Add flour and set aside
You'll need:
2/3 cup sugar
½ cup Butter
2 teaspoons salt
2 egg whites
6 cups flour
1 cup walnuts
1 cup raisins
Cream butter and sugar together.
Mix in egg whites and salt.
Mix in flour (mixture will be crumbly)
Mix in walnuts and raisins. (Beth's note: the recipe calls for 1 cup each, but I always add more. If you don't like raisins, just add more nuts.)
Add both mixtures together. Knead dough on countertop until smooth. Cover with a towel and let stand in warm place for 2 hours.
Divide into loaves. Let rise for 30 minutes in warm place
Preheat oven to 350 degrees. Bake 45 minutes to 1 hr.
Remove from oven and brush with melted butter.
Great toasted or served with Thanksgiving dinner.
Copyright 2016 WFSB (Meredith Corporation). All rights reserved.