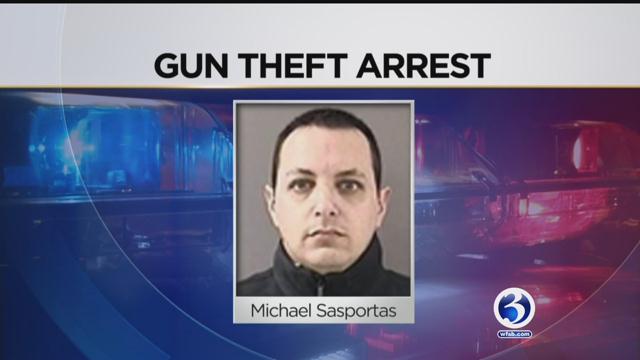 Surveillance pictures posted to social media lead Wallingford police to the man they say stole a gun from a store. (WFSB)
WALLINGFORD, CT (WFSB) -
A man who may have stolen weapons from two gun shops is due in court on Monday.
Police said Michael Sasportas took a gun on Thursday from Delta Arsenal in Wallingford.
Investigators believe he also stole from Hoffman's Gun Shop in Newington in September.
Detectives in Wallingford received tips from the public after putting surveillance pictures on its Facebook page.
Sasportas was arrested on Friday outside of his home in Bloomfield after he went to his mailbox. Police said they recovered the stolen firearm.
Sasportas is being held on $75,000 bond.
He was charged with theft of a firearm, fifth degree larceny and carrying a pistol without a permit.
Copyright 2016 WFSB (Meredith Corporation). All rights reserved.