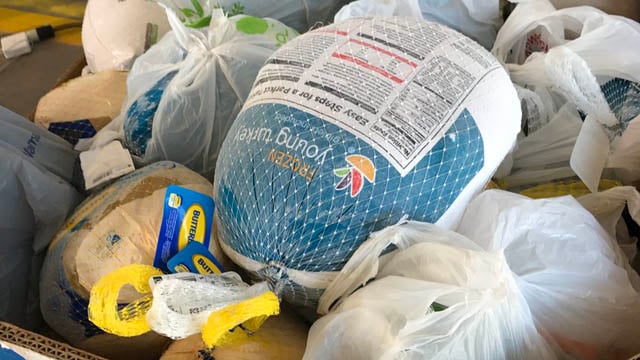 Foodshare said it was about 900 turkeys shy of its goal as of Monday night. (Foodshare photo)
Volunteers accepting donations for Foodshare at Stop & Shop in Simsbury last week. (Foodshare photo)
BLOOMFIELD, CT (WFSB) -
The charity organization Foodshare said it is just shy of reaching its turkey donation goal.
However, there's still time to get there.
Foodshare said it will be accepting donations at its warehouse in Bloomfield Tuesday morning ahead of its final distribution time of 11 a.m.
"Less than 24 hours ago we were desperately seeking over 4,000 birds and the community showed up in droves," said James Arena-DeRosa, Foodshare president and CEO. "We are so proud to be a part of this caring and compassionate network of individuals and organizations."
On Tuesday evening, Foodshare said it needed 150 turkeys by 6 p.m.
Foodshare said the goal of its "A Turkey & $30" campaign has always been to provide a Thanksgiving meal to 15,871 families in need. Those families signed up with Foodshare to receive holiday help.
For more information, head to Foodshare's website here.
Copyright 2016 WFSB (Meredith Corporation). All rights reserved.