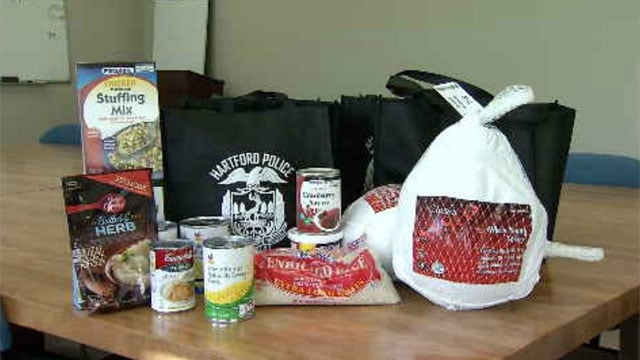 Hartford police deliver Thanksgiving meals on Tuesday (WFSB)
HARTFORD, CT (WFSB) -
It is a week to give thanks and to give back to those less fortunate.
That's exactly what the Hartford Police Department's Police Athletic League was doing on Tuesday...providing Thanksgiving meals to those in need.
The Thanksgiving meal giveaway kicked off on Tuesday morning, and when all is said and done, 300 families will be getting a full turkey dinner for Thursday.
From 10 a.m. to 4 p.m. on Tuesday, meals were given out at the South Substation, and it took a whole lot of people and a lot of generosity to make it happen.
Food drives have been held the past few weekends and volunteers were able to collect about $1,500, and they were able to fill the PAL vans with food three times over.
"No officer hesitates to give back to the city residents. We're always there if somebody is in need. We will help out," said Hartford Police Officer Vincenzo Marfella.
This is the second year of the event.
Last year, police fed 135 families, so they more than doubled that number this year.
Copyright 2016 WFSB (Meredith Corporation). All rights reserved.