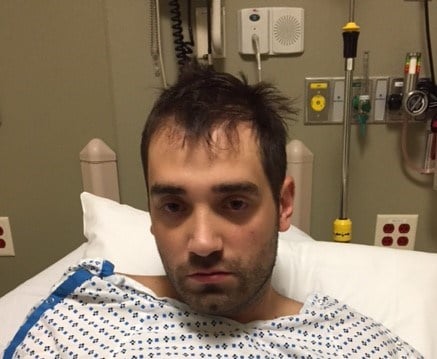 Christopher Bessette, arrested for DUI in Plainfield following a crash involving a police officer. (Plainfield Police submitted photo)
PLAINFIELD, CT (WFSB) -
A Plainfield police officer is recovering from injuries after his cruiser was struck Friday night.
Plainfield police said the crash occurred Friday around 10:30 p.m. at the intersection of Route 12 and Railroad Avenue.
According to police, two officers on duty were parked in a nearby parking lot when the crash occurred. Both officers responded and found one of the two vehicles involved in the crash was a Plainfield Police cruiser.
The cruiser, which was operated by Officer Daniel Wolfburg was on patrol heading southbound on Route 12. Officer Wolfburg continued through the intersection where he collided with a Jeep Liberty SUV that was attempting to turn left driven by 28-year-old Christopher Bessette of Sterling.
Police said Bessette ignored a blinking red light at the intersection and continue straight and right into the path of Officer Wolfburg's vehicle.
Both vehicles sustained significant damage, police said.
Police said Bessette was found to be driving under the influence of drugs or alcohol when the crash occurred. He was arrested and charged with operating under the influence and failing to grant the right of way at an intersection. He was released on a $5,000 bond and will appear in court next month on his charges.
Officer Wolfburg was taken to Backus Hospital in Norwich for treatment. He was later released. Bessette was also treated at an area hospital for his injuries.
Copyright 2016 WFSB (Meredith Corporation). All rights reserved.