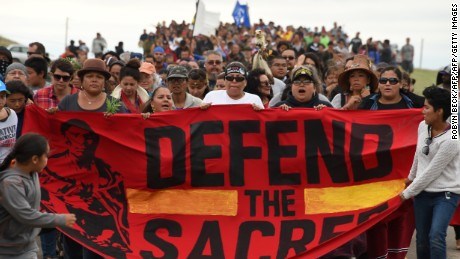 Protesters at Standing Rock fight the pipeline that will run through the Missouri River. (CNN)
PORTLAND, CT (WFSB) -
Portland residents are expected to gather to hold a prayer vigil for protesters of the North Dakota pipeline Saturday.
Organizers said they want to pray for protesters whose endured severe injuries from the use of water cannons, rubber bullets, and attacks from police dogs.
Protesters are fighting to protect the Standing Rock Sioux Tribes drinking water, which they said the pipeline would severely contaminate with oil leaks and spills.
The pipeline is slated to run under the Missouri River.
Opponents also argue the pipeline will threaten Native American burial sites, prayer site and culturally significant artifacts.
The vigil will take place at the Arrigoni Bridge at 4 p.m.
Copyright 2016 WFSB (Meredith Corporation). All rights reserved.