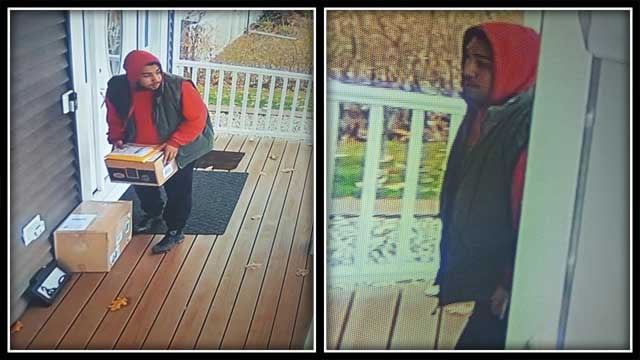 Anyone who recognizes this man should contact Newington police (Newington Police)
NEWINGTON, CT (WFSB) -
Newington police are warning residents after some packages were stolen from a front porch on Wednesday.
The packages were stolen from a home in the area of Culver Street.
Anyone who recognizes the man caught on surveillance video should contact police at 860-594-6254.
It's that time of the year when there are more deliveries and packages are being left on front steps.
Connecticut State Police said Wednesday was declared National Package Protection Day.
Police provided some tips to decrease the chances of you becoming victim to a porch thief:
If possible, have your package delivered to a location where it can be received by a trusted person.
Ask neighbors who are home during the day to watch for deliveries.
Request that the shipper holds the package at their facility for pickup.
Track deliveries online and confirm delivery has occurred.
Insure valuable items.
Provide delivery instructions so packages are left out of sight from the street.
Watch out for vehicles following delivery vans through neighborhoods. Some thieves will simply shadow deliver drivers and go from house to house stealing newly delivered packages.
When sending packages, take them to a post office or other shipping facility rather than leaving them outside your home for pickup. Let the person you are sending the package to know to expect the package.
Show off your home security system; make sure you have a sign in the front yard. If you have security cameras, make sure potential thieves know they're there, and if you have a doorbell camera, use it.
Sign up for email notifications from FedEx, UPS and businesses like Amazon and Urban Outfitters to track your package from initial shipment to its arrival at your home or the recipient's address if you have the gift delivered directly.
Copyright 2016 WFSB (Meredith Corporation). All rights reserved.