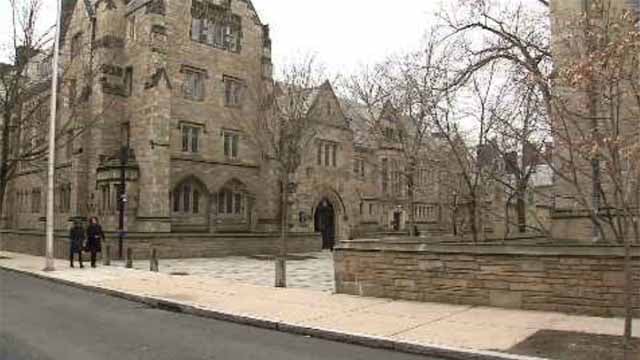 Yale University (WFSB file photo)
NEW HAVEN, CT (WFSB) -
A health alert on the Yale campus as two suspected cases of the mumps have developed on campus.
The university is now urging students and the community to monitor their health and any potential symptoms.
The mumps is a highly contagious respiratory disease that can spread when an infected person coughs or sneezes on someone else.
According the Yale, the suspected cases include an undergraduate student living on campus and a graduate student off campus.
Doctors said that people with mumps can spread the infection before they fell sick. It can happen for up to two days before and five days after symptoms develop.
Symptoms include puffy cheeks and swollen salivary glands. Yale is urging students with any signs of mumps to immediately call Student Health at (203) 432-0312 or call a primary care clinician.
Yale told Eyewitness News that more than 90 percent of undergraduate students have received the mumps vaccine, but it is still possible for students or other members of the campus community to get sick.
Those with symptoms who are from the New Haven area will be asked to go home. Students who are not local will be cared for at Yale Health until they are no longer contagious.
This is not the first case of the mumps this year. In April, eight students at Sacred Heart University were diagnosed as part of an outbreak. Several other cases were under investigation.
Copyright 2016 WFSB (Meredith Corporation). All rights reserved.