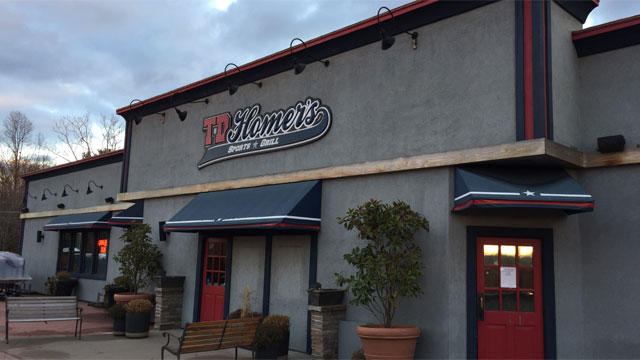 TD Homer's Grill in Southington closed its door on Monday.  (WFSB)
SOUTHINGTON, CT (WFSB) -
A well-known restaurant/sports bar in Southington closed its door on Monday.
TD Homer's Grill, which is located at 420 Queen St., shut its doors after more than seven years of service. There was no reason given for the closure of TD Homer's Grill.
"We love being a part of the Southington community, and will continue to do so by focusing our energy on the Wood-n-Tap concept," Mike Hamlin with the Hartford Restaurant Group said in a statement on Monday.
The closure of TD Homer's Grill will allow the Hartford Restaurant Group to "focus on the growth opportunities with the rapidly expanding Wood-n-Tap brand."
The Hartford Restaurant Group said all gift cards for TD Homer's Grill will be honored at all nine Wood-n-Taps in Connecticut.
"We are looking forward to the expansion of our mainstay brand and Award Winning bar and grill, the Wood-n-Tap, as we focus on new menu items, creative cocktails and a welcoming environment for all guests. At the Wood-n-Tap we always encourage everyone to Come as you are," Phil Barnett said in a statement on Monday.
For more information on the Hartford Restaurant Group, click here.
To learn more about Wood-n-Tap, click here.
Copyright 2016 WFSB (Meredith Corporation). All rights reserved.