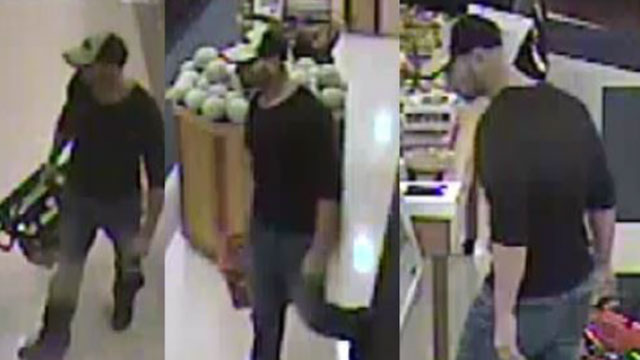 Watertown Police Department released this surveillance photo of the suspect.
WATERTOWN, CT (WFSB) -
Police are searching for the man accused of stealing several groceries from a store in Watertown last week.
The case of shoplifting was reported at Labonnes Market on Nov. 29. Police said the suspect entered the store, filled a shopping basket with food and left the area in a gray Dodge Durango, which was near the front of the market.
The following items were taken from Labonnes Market:
2 Packages of Frozen Shrimp Price: $41.96
2 Packages of Strip Steak Price: $35.98
2 Packages of Ribeye Sandwich Steaks Price: $31.98
1 Package of Chicken Price: $5.99
1 Package of Frozen Salmon Price: $7.99
The suspect was described as a 6'0" man in his 20s with a thin-style beard. Police said he was wearing a black baseball cap with white front and bill, black long sleeve shirt, blue jeans and brown work boots.
On Monday, police released surveillance photos of the suspect and his getaway vehicle.
Anyone with any information about the suspect is asked to call the Watertown Police Department at 860-945-5200 or crimestoppers at 860-945-9940. Police said calls could be kept confidential.
Copyright 2016 WFSB (Meredith Corporation). All rights reserved.