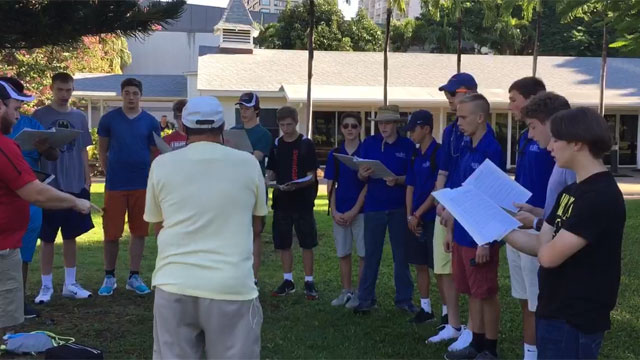 On board the U.S.S. Missouri, there were 1,000 high school band members and choral groups from throughout the country including 100 from Lyme/Old Lyme high school in Connecticut. (Submitted)
OLD LYME, CT (WFSB) -
The world marked the 75th anniversary of the attack on Pearl Harbor, Hawaii.
There was a commemoration ceremony from aboard the U.S.S. Missouri on Wednesday afternoon.
On board the U.S.S. Missouri, there were 1,000 high school band members and choral groups from throughout the country including 100 from Lyme/Old Lyme high school in Connecticut.
The community backed the students and advisors to attend and perform at this historic occasion and they were watching the production back at school on Wednesday night.
It's not like you're going to be able to pick out the Connecticut delegation. The 100 students and staffers have been fundraising since last year to make this experience happen.
This live production from Hawaii was tightly orchestrated and will go to about 5:50 p.m. followed by more formal speeches.
The Connecticut delegation is due back on the weekend.
For more information, click here.
To see live streaming video of the commemoration ceremony, click here.
Copyright 2016 WFSB (Meredith Corporation). All rights reserved.