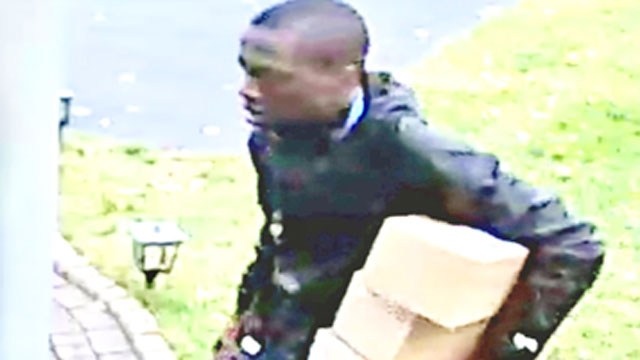 Police released this picture of the suspect from an incident on Simsbury Road. (West Hartford Police Department)
WEST HARTFORD, CT (WFSB) -
West Hartford police are searching for a man that has been stealing packages in town.
Several of the package thefts were caught on a home surveillance camera and a picture of the suspect from an incident on Simsbury Road on Wednesday was shared with police.
"The security video have been helpful in determining the times and methods of thefts as well as accurate description of the suspects," West Hartford Police Department said in a statement on Friday.
In the surveillance video, it shows the man already has three packages in his arms while he is trying to steal a fourth package.
"It's terrible, I get very angry," said Karin Baldani of West Hartford.
Baldani lives on Simsbury Road and said she will be keeping an eye out for this man.
"I am going to keep track of UPS packages if I have any coming," Baldani said.
Police released the following tips to prevent thefts:
Leave delivery instructions with parcel delivery services to keep the packages out of sight.
Deliveries should be placed on side or back porches or in between screen doors.
Take deliveries in as soon as they arrive.
Ask the parcel services to ring the bell upon delivery.
Track packages and insure them.
Have the packages delivered to a work, neighbor or friend's address who is home.
Have packages delivered to private mail services like Mailboxes etc. or the Amazon Locker. Local pick up at the Post Office or private parcel delivery offices is also available.
Use home security features such as motion sensor cameras and lighting.
Call in all suspicious activity such as vehicles following delivery trucks and non-uniformed personnel handling packages in neighborhoods.
Copyright 2016 WFSB (Meredith Corporation). All rights reserved.