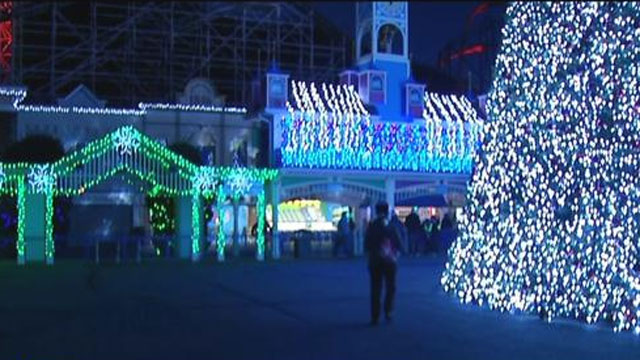 Tree lighting celebration held at Lake Compounce on Friday night. (WFSB)
BRISTOL, CT (WFSB) -
A Connecticut charity is making one wish come true for a four-year-old girl battling a rare medical condition, at Lake Compounce in Bristol on Friday night.
The Connecticut Children's Medical Center and Christmas Wish CT partnered together to name Audrey Pavlak, who is battling a rare medical condition called short Bowel syndrome, and has had undergo numerous surgeries during her life, this years "Christmas Angel." Pavlak was tasked with lighting the Christmas tree and kicking off the Holiday Party for the evening.
The Holiday Party benefited at least 220 local, disadvantaged children who are set to receive warm clothing, toys, and even a visit with Santa and Mrs. Claus.
Organizers told Eyewitness News that they spend a full year setting up, but they said the look on the children's faces make all the work worth it.
"You know what it's like. I'm going to be honest with you. It's when you're a child and you came down Christmas morning and you saw that Santa had visited and everything was under the tree, it's the exact same feeling back," Mike Stacy with Christmas Wish Connecticut said. "It's really, really wonderful."
Copyright 2016 WFSB (Meredith Corporation). All rights reserved.