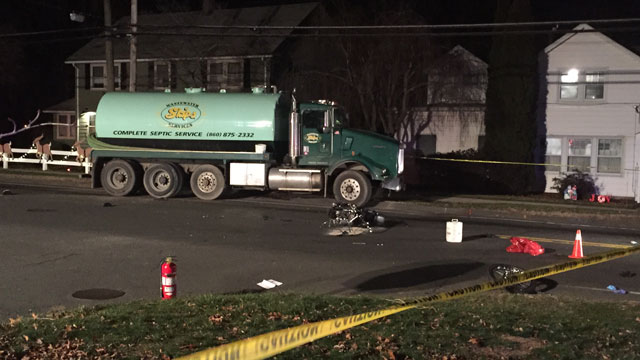 Life Star medical helicopter was called to a motorcycle crash in Ellington on Friday evening. (WFSB)
ELLINGTON, CT (WFSB) -
Life Star medical helicopter was called to a serious motorcycle crash in Ellington on Friday evening.
The crash happened at 38 West Rd. near the Ellington and Vernon town line. Route 83, which is also known as West Road, was closed at Lower Butcher and Bancroft roads, according to Department of Transportation.
The crash involved a motorcycle and a a septic truck, according to state police.
According to state police, a motorcycle driven by 57-year-old Gary Wooley pulled out of Bancroft Road and onto West Road.
The driver of the septic truck, 21-year-old Kyle Bass, tried to swerve out of the way of the motorcycle.
Police said that the truck hit the front bumper of the motorcycle. Wooley was thrown from the motorcycle. Police said he was not wearing a helmet at the time of the crash.
Wooley was brought to St. Francis Hospital by Life Star.
Bass was not injured.
Copyright 2016 WFSB (Meredith Corporation). All rights reserved.