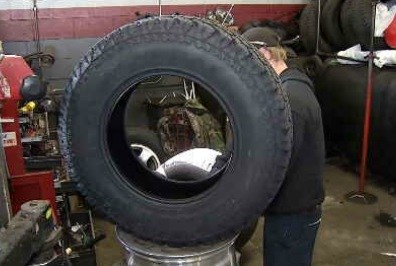 Mechanics at All-Pro Tire Country said Snow tires in high demand before upcoming snow storm. (WFSB)
OLD LYME, CT (WFSB) -
Snow appears to be in our forecast for late Sunday into Monday, which sent tire shops scurrying for snow tires.
Some local tire shops had a lot of callers today saying they needed new tires.
Al Potter is getting new tires because his were worn out to the steel and the belts were exposed.
"I do snow removal and have to have a vehicle and be safe," Potter said.
Christina Ross couldn't imagine driving on snowy road with the tires she had on her car Friday morning, so she called up All-Pro Tire Country to get new rubber on right away.
"I'm thinking if my car is in good shape and I'm doing a good speed, I'll be good," Ross said.
Tire technician Wyatt Lent changed out 30 tires before lunch today because of the forecast.
"Some of the stuff we see coming in here, it's scary to us. There's steel coming out of them , people just don't care and they don't want to spend the money and it's scary," Lent said.
Before you drive in the snow, make sure your vehicle is ready for the road.
Copyright 2016 WFSB (Meredith Corporation). All rights reserved.