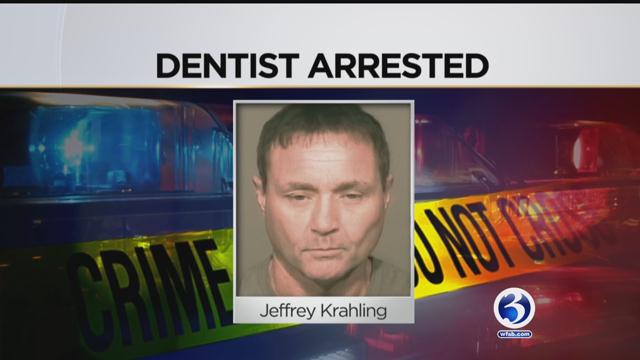 Jeffrey Krahling was arrested for breaking into a woman's home Friday. (WFSB)
MERIDEN, CT (WFSB) -
Meriden police said a former dentist accused of sexually assaulting a patient was arrested for burglary Friday.
According to officials, Jeffrey Krahling, of Meriden, was arrested after police found him fleeing the scene of a break-in around 10 p.m.
Police arrested him at his residence in Wallingford.
Krahling was charged with:
Two counts of risk of injury
2nd degree criminal mischief
Violation of a restraining order
1st degree stalking
3rd degree criminal mischief
Tampering with a witness
Intimidating a witness
Breach of peace
1st degree reckless endangerment
Interfering with police
Criminal attempt to commit assault on an officer
Reckless driving
Krahling was previously arrested for assaulting a patient last September.
According to the arrest warrant, the woman said when she tilted her chair back "Krahling's legs were wrapped around her head" while she was leaning back in the chair.
The arrest warrant states that "Krahling began grinding on top of her head" and that "she could feel Krahling's penis on her head during the procedure"
Bond was set at $1,000,000.
Copyright 2016 WFSB (Meredith Corporation). All rights reserved.