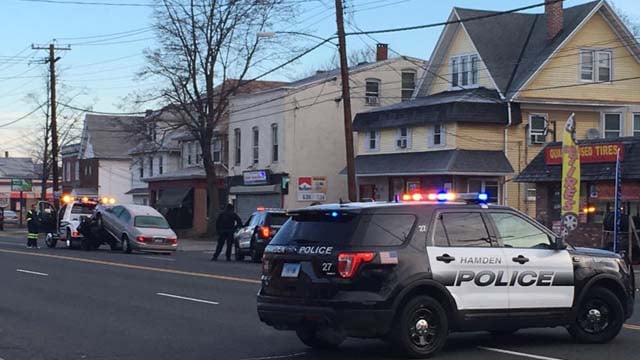 A man has died after he was hit by a car in Hamden early Sunday morning. (WFSB)
HAMDEN, CT (WFSB) -
A man has died after he was hit by a car in Hamden early Sunday morning.
Police identified the man as 58-year-old Harris Tendler, of Hamden. He was hit while trying to cross Dixwell Avenue at Oregon Avenue, around 2 a.m.
A section of Dixwell Avenue was shut down while officials investigated, however it has since reopened.
The driver of the vehicle stayed at the scene. He had minor injuries and is not facing any charges at this time.
Police said the intersection is dangerous and that there have been several pedestrian accidents there the past few years.
"Accidents happen here all the time," said Metashar Dillon, who owns a hair salon nearby. She said more should be done to make the corner much safer. "There are a lot of businesses around here, and there's a lot of people that cross, they should probably put a crosswalk."
At this time, police say the driver had not been drinking, and the traffic division is now working to uncover the circumstances surrounding the incident.
This incident closely follows a string of other deadly pedestrian accidents across the state over the last two weeks.
Copyright 2016 WFSB (Meredith Corporation). All rights reserved