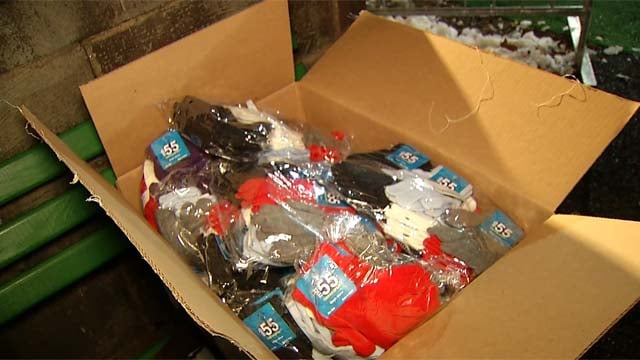 Amazon donated gloves, hats and money to Winterfest. (WFSB)
HARTFORD, CT (WFSB) -
On Tuesday evening, young skaters at Winterfest in Hartford were staying warm thanks to a generous donation from Amazon.
It's the company's busiest time of the year, and Tuesday's special delivery was a donation of $5,000 worth of warm gear, benefiting all of the children who visit Winterfest for free ice skating at Bushnell Park.
Any child that needs or wants a free hat or set of gloves will be able to get them before they hit the ice at Bushnell Park, and that's not all.
Amazon also donated $10,000 to Winterfest to help ensure the event continues.
Amazon employees from the businesses Windsor fulfillment center donated Santa hats and helped deliver the clothing on Tuesday.
General Manager Jeff Laurendeau said the cause really resonated with him.
"This is a fun time of year for us with the holidays and we heard about this event and how we can help kids this time of year and how important it is to the community, so for us to be able to jump in and have that holiday spirit is really something we really wanted to do," Laurendeau said.
Winterfest at Bushnell Park runs until Jan. 24.
Copyright 2016 WFSB (Meredith Corporation). All rights reserved.