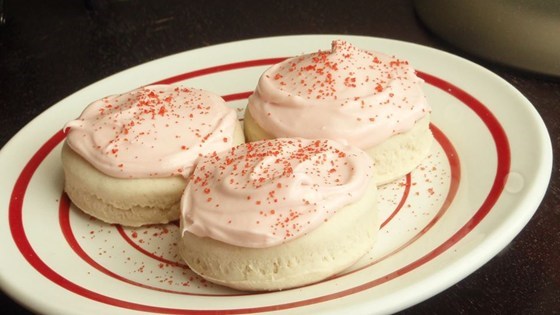 (AllRecipes.com photo)
(WFSB) -
Sweet Maria's Sour Cream Cutouts, as seen on Eyewitness News This Morning.
Ingredients:
1 ½ sticks butter, softened
¾ cup sugar
1 egg
½ teaspoon vanilla extract
½ teaspoon lemon extract
¼ cup sour cream
2 ½ to 3 cups flour
2 teaspoons baking powder
Directions:
Cream margarine and sugar until light. Add egg , extracts and sour cream. Mix until well blended.
Add flour and baking powder. Mix dough just until blended.
Wrap dough in plastic wrap and refrigerate 2 to 3 hours or overnight.
Preheat oven to 350 F.
Divide dough in half. Keep half you're not working with refrigerated. On a lightly floured surface, roll dough evenly to ¼" thickness. Cut into desired shapes. Re-roll with remaining dough and scraps.
Place cookies onto a parchment lined cookie sheet, spacing each about 2 inches apart.
Bake 10 to 12 minutes or until firm and edges just begin to brown.
Remove from the oven.
Cool cookies completely before decorating.
Copyright 2016 WFSB (Meredith Corporation). All rights reserved.