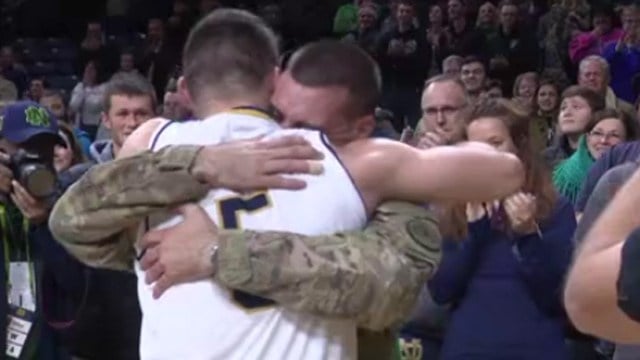 (WSBT/CBS photo)
SOUTH BEND, IN (CBS) -
After Notre Dame basketball's 77-62 win over Colgate on Monday night, one member of the fighting Irish received an early Christmas present.
Irish junior guard Matt Farrell's brother Bo, a lieutenant in 3rd Cavalry regiment, was supposedly sending a message to his brother from OB Fenty, Afghanistan on the jumbo-tron.
But what Matt and the rest of the Farrell family didn't know was that Bo was actually in the arena.
Head Coach Mike Brey and a few other staffers were in on the surprise.
After the game the guard called the reunion "The best Christmas gift I have ever gotten."
© 2016 CBS Interactive Inc. All Rights Reserved.