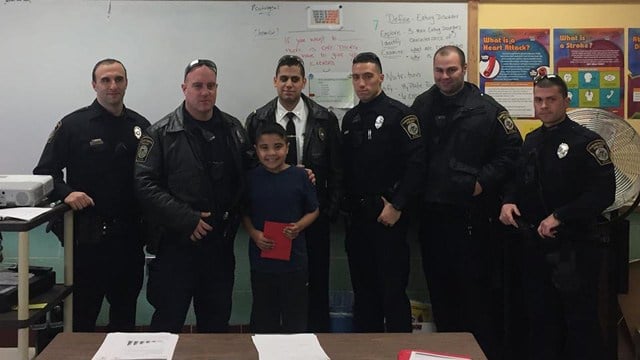 North Haven police thanked Christian Mercado for rescuing a woman. (North Haven police photo)
NORTH HAVEN, CT (WFSB) -
Heroes may come in all shapes and sizes.
And according to the North Haven Police Department, all ages too.
Officers thanked 13-year-old Christian Mercado for rescuing a 66-year-old woman earlier this week.
They said Christian was riding the bus home from school on Monday when he saw a woman lying on a Quinnipiac Avenue sidewalk. She was profusely bleeding.
When the bus stopped, police said Christian got off and ran toward her. He also tried to flag down vehicles to help. No one stopped.
Christian told police that the woman had fallen and had a lot of scrapes on her nose and forehead.
He was able to dial 911 for help.
Responding patrol officers said they were so impressed with Mercado's willingness to help a stranger that they bought him a gift.
They chipped in for a $250 gift card to Dick's Sporting Goods.
Officers presented Christian with the token of their appreciation on Wednesday at North Haven Middle School.
Copyright 2016 WFSB (Meredith Corporation). All rights reserved.