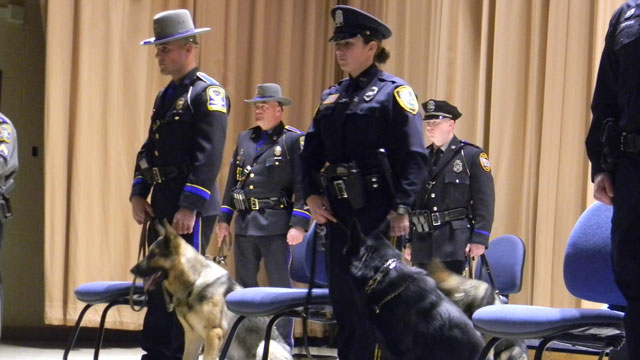 Eight dogs graduated on Thursday morning and are now official members of the Connecticut State Police Canine Training Unit. (CT State Police)
MIDDLEFIELD, CT (WFSB) -
Eight dogs graduated on Thursday morning and are now official members of the Connecticut State Police Canine Training Unit.
All eight German Shepherds completed 15 weeks of training that started in September.
Here are the graduates of the 184th Patrol Canine class and their assignments:
Trooper William Veras and K9 Dexter to Connecticut State Police Troop B - North Canaan
Trooper First Class Michael Zmayefski and K9 Murphy to Connecticut State Police Troop E - Montville
Officer Joshua Trifone and K9 Tango to Connecticut Department of Corrections
Officer John Wilson and K9 Ardo to East Hampton Police Department
Officer Michael Colantuono and K9 Nova to Enfield Police Department
Officer Brittany Bartlett and K9 Kobe to Guilford Police Department
Officer Matthew Bloom and K9 Koda to Middletown Police Department
Officer Michael Silva and K9 Blitz to Waterbury Police Department
State police said the K9s are "vital tool for law enforcement." They are trained to do the following items:
obedience
patrol
locating missing persons
building searches
apprehending criminals
evidence recovery
crowd control
protecting their handlers
The Connecticut State Police Canine Training Unit trains K9s for about 42 departments in the northeast.
Copyright 2016 WFSB (Meredith Corporation). All rights reserved.