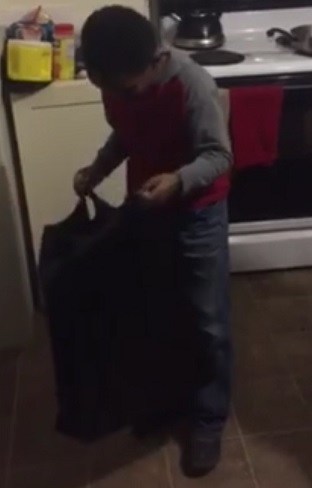 A young Naugatuck boy is overjoyed when he realizes officers have replaced his stolen Christmas present. (Naugatuck Police Dept. Facebook page)
A couple Naugatuck police officers took on a new role Friday evening when they found themselves playing Santa.
The officers were called to investigate a burglary at a home on New Haven Road around 7 p.m. after a resident returned home to find her house had been broken into. Several items were stolen including electronics, clothing and Christmas gifts for her family.
Police quickly learned that amongst the stolen gifts was a new PS4 gaming system that the single mother had worked hard to save up for to give her 10 year old son.
The officers involved in the investigation knew they had to help make Christmas whole again and pooled together their money to purchase a new gaming system for the boy. In addition, when officers went to purchase the gift at a nearby Game Stop, the store management also pitched in giving the officers a significant discount on the system.
Officers returned to the home with the gift for the mother so she could still surprise her son on Christmas morning. However, the mother only saw it fitting that the surprise be given to him a bit early and from the officers.
In a video posted on their Facebook page the young boy is overjoyed by the surprise, but the mother is completely shocked by the officers gesture.
The burglary remains under investigation at this time and anyone with information is being asked to call the Naugatuck Police Department at 203-729-5221 or 203-720-1010.
Copyright 2016 WFSB (Meredith Corporation). All rights reserved.