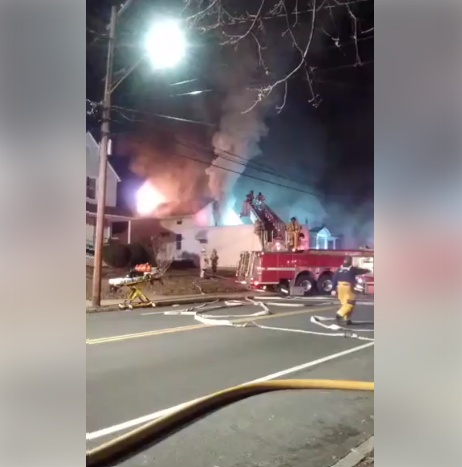 (Credit: Joseph LeMay)
A family, including six children ages 7 months old, 2 years old, 3 years old, and their 16-year-old babysitter, escaped a large fire sparked at their 95 Union Street home in Vernon on Christmas Day.
The childrens' aunt, Miriam Sanchez, told Eyewitness News that her 16-year-old niece was babysitting her younger brothers and sister while their mother was at work when their house caught on fire.
"She went to work and all of sudden she got a call, an hour, two hours later, her house is burning," said Sanchez.
Firefighter responded to the residence at about 5:10 p.m. on Sunday evening.
"My niece came out the shower and when she passed the window, the window that was burning and it was already going up in flames," said Sanchez.
"All she could do was take the babies and run out the house."
All occupants of the home evacuated safely, but now they said they wonder what they will do now. The American Red Cross is affording the family a place for the night. In the meantime, investigators are working to determine the cause of the fire.
Copyright 2016 WFSB (Meredith Corporation). All rights reserved.