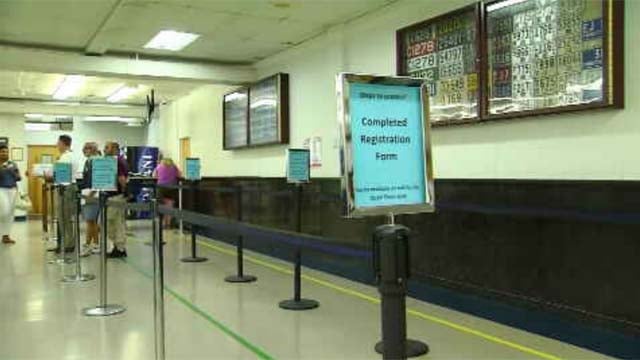 Lines at the DMV are expected to drop with new changes (WFSB)
HARTFORD, CT (WFSB) -
There's good news for drivers in Connecticut. Things are about to get a whole lot better at the Department of Motor Vehicles.
On Wednesday, Gov. Dannel Malloy announced significant improvements in wait times as a result of time saving measures that are being rolled out in offices statewide.
Since they rolled out the pilot program in November, they have seen wait times go from on average of an hour and 17 minutes, to 34 minutes. That's cut time by more than half, so they will institute the program statewide.
The changes include:
Opening branch doors 15 minutes early to review customer paperwork to smooth out early morning peak volume
Giving customers a service ticket immediately upon arrival at a dmv branch, eliminating waited to be served again
Making customer advocates available to check all paperwork for compliance to prevent repeat visits
"DMV customers demanded that things be fixed, the department heard them and responded accordingly," Malloy said.
Quicker service and shortened lines are something any driver in Connecticut will say is a welcome relief.
"Certainly it's kind of overwhelming when you come in the number of people, so I would think that an advocate to kind of put you in the right direction and make that experience more pleasurable would be a good thing," said Owen Quinn, of Torrington.
The DMV is also beginning a process of upgrading its telephone customer contact center, which will include giving customers the option to complete registration renewals over the phone and will have a phone option to get a return phone call if all agents are busy.
Copyright 2016 WFSB (Meredith Corporation). All rights reserved.