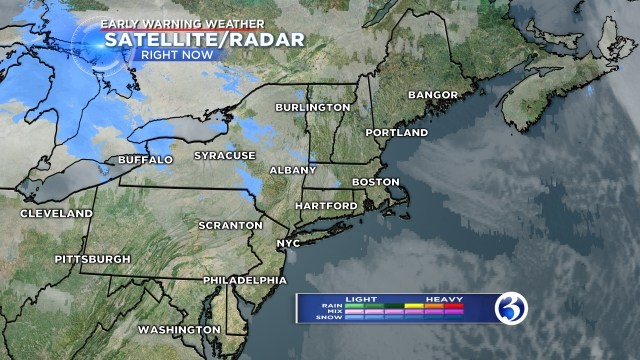 HARTFORD, CT (WFSB) -
An Early Warning Weather Day has been declared for Saturday because of the chance of some snow showers and slippery travel conditions for your New Year's weekend.
Saturday, New Year's Eve, will feature mostly dry conditions with temperatures getting into the mid to upper 30's.
However, as New Year's Eve festivities begin we'll see some rain and snow showers move into the state. Even though we are not looking at any significant accumulation, roads especially interior, could become slippery as temperatures drop below freezing. That, in addition to the extra traffic on the road for holiday celebrations, could lead to some issues.
Things begin to improve for Sunday, New Year's Day. However, we could see a quick morning flurry before the clouds part. By Sunday afternoon the sun with come out and temperatures will make their way into the low to mid 40's.
Wet weather returns for the start of the work week though, and the timing along with the temperatures could lead to issues on the roads again.
Read the full technical discussion here.
Download the WFSB app here to subscribe for weather alerts and more.
Copyright 2016 WFSB (Meredith Corporation). All rights reserved.