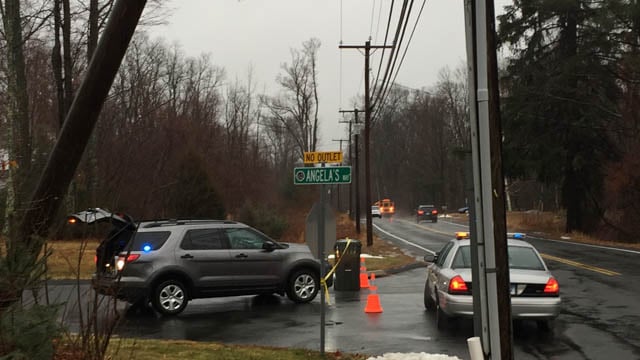 An investigation is underway after a trooper shot a man who refused orders to drop his weapon. (WFSB)
BURLINGTON, CT (WFSB) -
An investigation is underway in Burlington where a man refusing orders to drop a weapon was shot by a state trooper.
The man, identified as 49-year-old Maciej Konferowicz, was taken to Saint Francis Hospital with non-life threatening injuries.
Police said troopers responded to a home on Angela's Way around 1:30 p.m. on Tuesday for a "suspicious incident/person threatening to harm himself."
Responding troopers found a man with a gun, who they said refused orders to drop his weapon.
That's when the trooper fired at least one round from their duty weapon, hitting the man.
Police said "the investigation continues to determine what transpired, how many shots were fired and how many troopers/Burlington Police Officers discharged their weapons, and whether or not Konferowicz will face charges."
Two troopers have been placed on administrative duty pending the investigation, police added.
Central District Major Crime and State Attorney's Office responded to the scene.
Copyright 2016 WFSB (Meredith Corporation). All rights reserved.