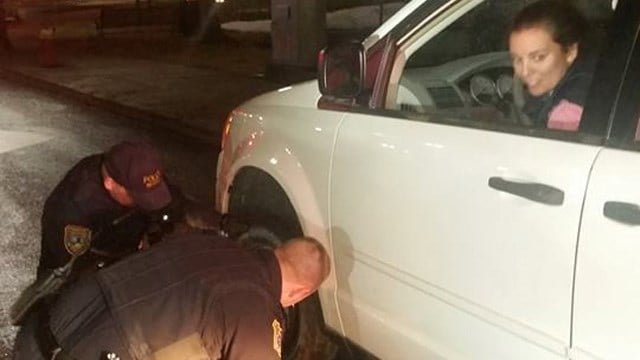 Officers Mike Lounsbury and Mark Nowak stopped to help a stranded driver on New Year's Eve. (Meriden police photo)
MERIDEN, CT (WFSB) -
Two Meriden officers came to the rescue of a stranded family on New Year's Eve.
Officers Mike Lounsbury and Mark Nowak helped change a woman's tire at Colony and Hanover Streets.
Officer Mike Shedlock reported that Lounsbury and Nowak stopped to help Jessica Peruti on their own.
Shedlock said the men were on their hands and knees during sleet, freezing rain and below-freezing temperatures.
The officers said Peruti and her family didn't know how to change a tire and had two young children in the back seat.
The police department posted about it on its Facebook page Thursday.
"I felt this incident needed a little recognition, and I am proud to work along side these officers," Shedlock said. "Thank you Officer Lounsbury and Officer Nowak for setting the standard and showing our community what it means to be a Meriden Police Officer."
Copyright 2017 WFSB (Meredith Corporation). All rights reserved.