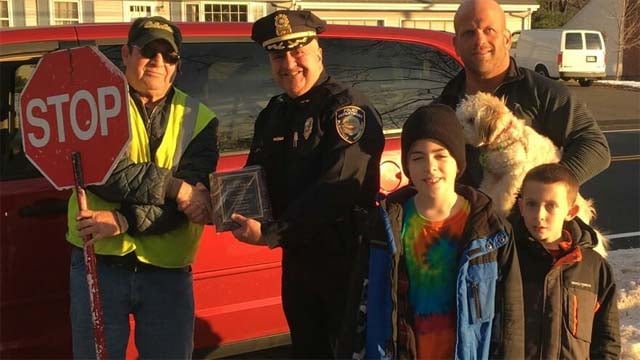 Bob Fabrizio is credited with saving a child from being hit by a car (Plainville Police Dept.)
PLAINVILLE, CT (WFSB) -
The Plainville Police Department recognized a crossing guard who is credited with pulling a student from harm's way.
On the morning of Oct. 31, police said Bob Fabrizio was at his Cooke Street crossing guard post when a child was about to cross the street, the same time a car was approaching the crosswalk.
Police said Fabrizio grabbed the child by his collar and pulled him back, out of the way of the oncoming car.
The child's father saw the whole thing, who contacted the town manager to compliment Fabrizio.
On Thursday, Fabrizio was presented with a plaque by Police Chief Matthew Catania.
Copyright 2017 WFSB (Meredith Corporation). All rights reserved.