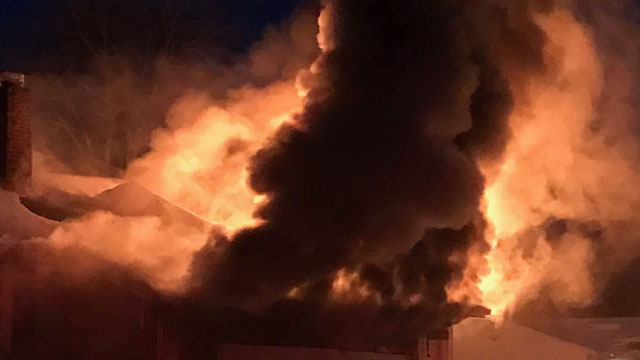 People were displaced after a garage fire in Hamden on Monday evening. (Hamden Fire Department)
HAMDEN, CT (WFSB) -
People were displaced after a garage fire in Hamden on Monday evening.
The fire was reported at 6 Wilson Ln. around 5:30 p.m. Upon arrival, firefighters spotted flames coming from the garage area. The home was unoccupied when firefighters arrived on the scene, Hamden Fire Deputy Chief Gary Merwede said.
The fire was knocked down within 20 minutes. However, Merwede said the "main body of fire was confined to the garage" with heat and smoke damage in the living area.
There were no reported injuries, Merwede said.
The American Red Cross came to the scene and helped the displaced family. The building official in Hamden also was able to get electricity to the home, so pipes would not freeze, due to the temperatures in the teens.
The cause of the fire is under investigation.
To see pictures of the fire on your mobile device, click here.
Copyright 2017 WFSB (Meredith Corporation). All rights reserved.