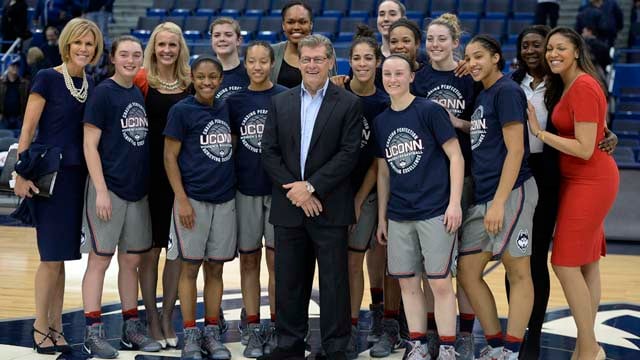 Connecticut head coach Geno Auriemma poses with his team for a photograph at the end of an NCAA college basketball game against South Florida, Tuesday, Jan. 10, 2017, in Hartford, Conn. (AP Photo/Jessica Hill)
STORRS, CT (AP) -
Top-ranked UConn tied its own NCAA record with its 90th consecutive win, routing No. 20 South Florida 102-37 on Tuesday night.
Saniya Chong scored 20 points to lead six players in double figures for the Huskies (15-0, 2-0 American Athletic Conference), who matched the streak Geno Auriemma's program set between November 2008 and December 2010.
Maria Jespersen had 11 points for South Florida (13-2, 2-1 American Athletic Conference), which has never beaten UConn in 21 attempts.
Copyright 2017 The Associated Press. All rights reserved. This material may not be published, broadcast, rewritten or redistributed.