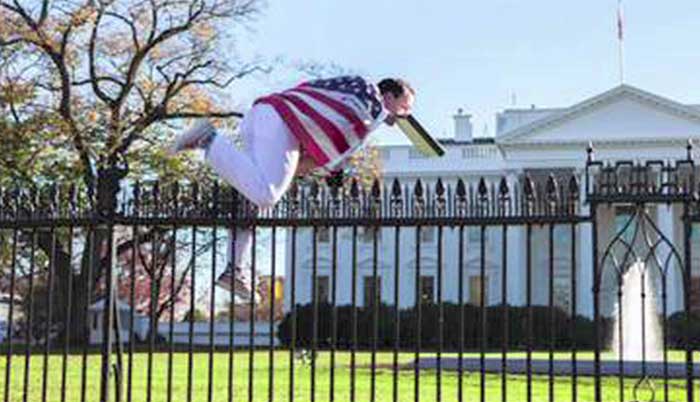 Stamford resident Joseph Caputo was arrested for jumping the White House fence. He's carrying a binder in his mouth. (Source: Vannesa Pena/CNN)
A Connecticut man who draped himself in the American flag and jumped over the White House fence on Thanksgiving Day 2015 has been sentenced to three years of probation.
Prosecutors said in a statement that 24-year-old Joseph Caputo, of Stamford, was sentenced Thursday. He had previously pleaded guilty to entering or remaining in a restricted building or grounds.
Prosecutors say that while on probation Caputo is required to stay away from the District of Columbia and any facilities, sites or people under Secret Service protection.
Caputo's attorney Stephan Seeger called the sentence "a fair one" in a telephone interview Thursday and said his client was never a threat to the public.
Copyright 2017 The Associated Press. All rights reserved. This material may not be published, broadcast, rewritten or redistributed.