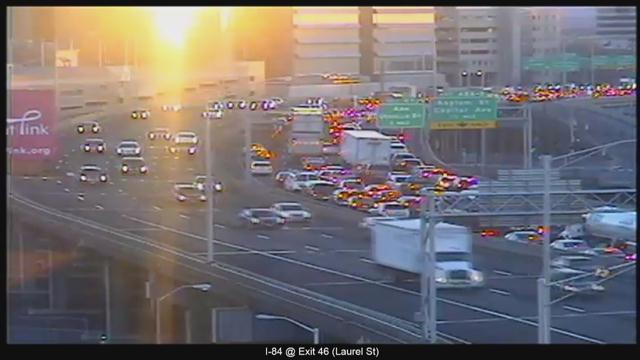 A car and a school bus were involved in a crash on I-84 east in Hartford on Friday morning. (DOT photo)
HARTFORD, CT (WFSB) -
A school bus and a vehicle were involved in a crash on Interstate 84 eastbound on Friday morning, according to transportation officials.
The Department of Transportation said the right and center lanes of I-84 east were closed between exits 46 and 48 in Hartford.
The scene has since cleared, according to state police.
They said it appears that a car rear-ended the bus.
Students were on board the bus, according to troopers. However, no one was hurt.
The lanes were closed so a tow truck could remove the vehicles from the scene.
Congestion was reported for more than 3 miles back between exits 42 and 48 at one point.
The crash was reported just before 7:10 a.m., according to the DOT.
There's no word on a cause.
For real-time traffic updates, check the WFSB traffic map here.
Copyright 2017 WFSB (Meredith Corporation). All rights reserved.