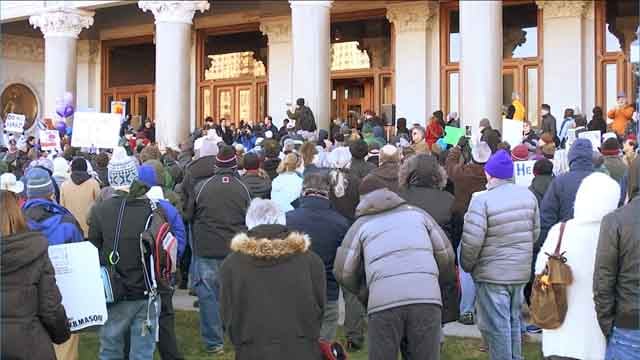 A large crowd gathered for a rally outside the State Capitol on Sunday afternoon. (WFSB)
HARTFORD, CT (WFSB) -
The steps of the State Capitol were crowded Sunday afternoon as members of Connecticut's Congressional Delegation rallied to save the Affordable Care Act.
Many spoke out against repealing the plan.
The Republican-controlled U.S. House of Representatives approved a measure on Friday that prevents Senate democrats from derailing a future bill that would reshape the 2010 law.
"To send a message to say no to repealing the Affordable Care Act, certainly no to repealing without replacing because it will literally make America sick again," said U.S. Senator Richard Blumenthal (D-CT).
Connecticut residents continue to sign up for coverage under the act.
More than 105,000 people were enrolled for coverage as of Jan.12.
Copyright 2017 WFSB (Meredith Corporation). All rights reserved.