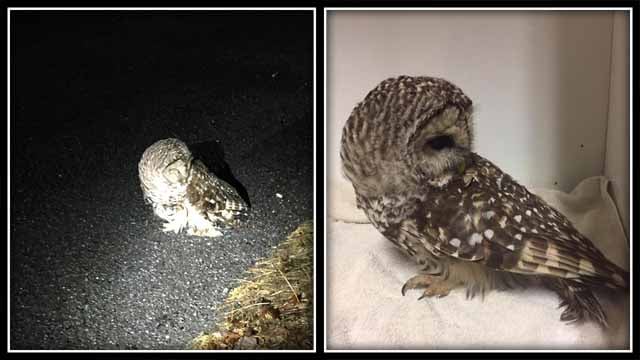 (Thomaston Police Dept.)
THOMASTON, CT (WFSB) -
Thomaston police officers helped an owl that was hit by a car this weekend.
Police said the Barred Owl had flown into the path of a car that was traveling on Atwood Road, when it hit the windshield.
The driver stopped and called police.
When officers arrived, the owl was standing in the road with obvious injuries.
Neighbors were able to help police with a crate and materials to handle the animal, and officers were able to take it to the Sharon Audubon Wildlife Rehabilitation Clinic for care and rehabilitation.
Officials from the clinic said the owl is in unstable condition, but is expected to recover from some of its injuries.
The owl may have a permanent eye injury.
Police posted more photos on their Facebook page here.
Copyright 2017 WFSB (Meredith Corporation). All rights reserved.