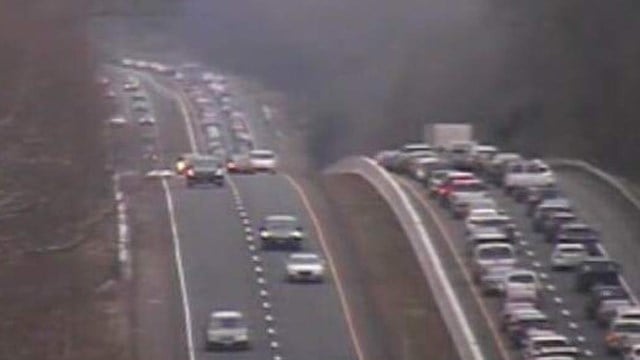 I-95 north was closed by exit 71 in Old Lyme on Sunday because of a deadly crash. (DOT photo)
OLD LYME, CT (WFSB) -
State police identified a woman killed in a weekend crash.
Troopers said 71-year-old Lynda Ranee Salek of Bonita Springs, FL was killed when the Ford Expedition she was riding in veered off of Interstate 95 north for an unknown reason.
State police said it happened between exits 70 and 71 in Old Lyme on Sunday around 2 p.m.
The crash closed I-95 for several hours.
They said the SUV, which was driven by 26-year-old Heather Otenti, also of Bonita Springs, left the right lane and veered into the right shoulder. It struck the right side wire rope and guardrail, then went down a steep embankment.
The vehicle went airborne before striking a tree.
Otenti received only minor injuries and was transported to Yale-New Haven Hospital.
Salek died in the crash.
Troopers said they are looking for eyewitnesses to the crash.
Anyone with information is asked to contact state police at 860-399-2100.
Copyright 2017 WFSB (Meredith Corporation). All rights reserved.