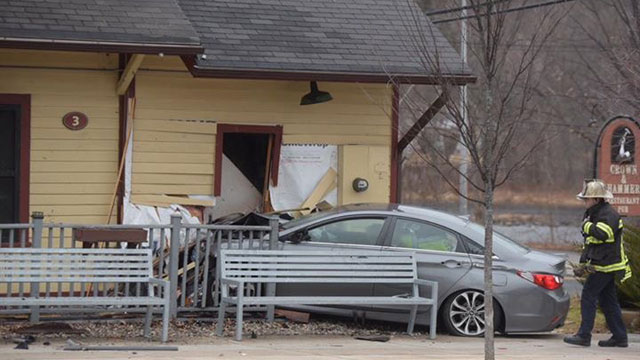 An 86-year-old woman was killed in a crash in Canton. (WFSB photo)
CANTON, CT (WFSB) -
An 86-year-old woman was killed in a restaurant crash in Canton on Monday.
According to Canton police, Margaret Stoppani was the passenger in a car driven by 51-year-old Michael Stoppani.
They said the car slammed into the Crown and Hammer Restaurant building at 3 Depot St. just after 12:30 p.m. on Monday.
Michael Stoppani only suffered minor injuries.
Margaret Stoppani, however, was trapped in the vehicle.
Both were transported to the hospital where Margaret Stoppani was pronounced dead.
The medical examiner still has to determine the exact cause of death.
The incident remains under investigation.
Anyone with information is asked to contact the Canton Police Department at 860-693-0221.
Copyright 2017 WFSB (Meredith Corporation). All rights reserved.