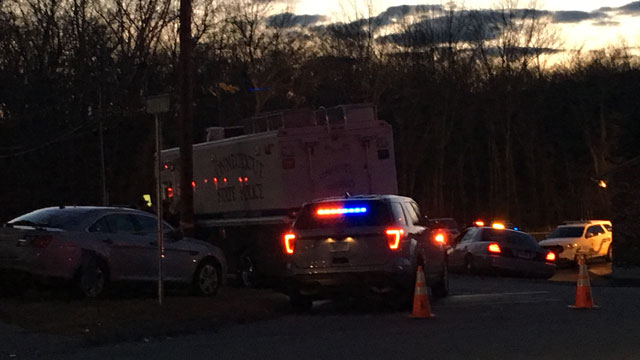 Police are investigating an officer-involved shooting in Montville on Sunday. (WFSB)
MONTVILLE, CT (WFSB) -
A man, who was involved in a "disturbance," died after an officer-involved shooting in Montville on Sunday afternoon.
State police said the shooting took place at the Chesterfield Lodge on Grassy Hill Road. It was after a disturbance at 1596 Route 85 around 2:30 p.m. Troopers have not released any details about it.
State police said one unidentified person had a gunshot wound, but later died from his injuries on Sunday night. They said they were working to identify the suspect.
An unidentified Montville police officer had a non-life-threatening injury and was rushed to local hospital, state police said.
Troopers said no officers were shot during the incident. There was no threat to the public and the threat was contained.
The Connecticut State Police Major Crime unit continues to investigate the shooting.
Copyright 2017 WFSB (Meredith Corporation). All rights reserved.