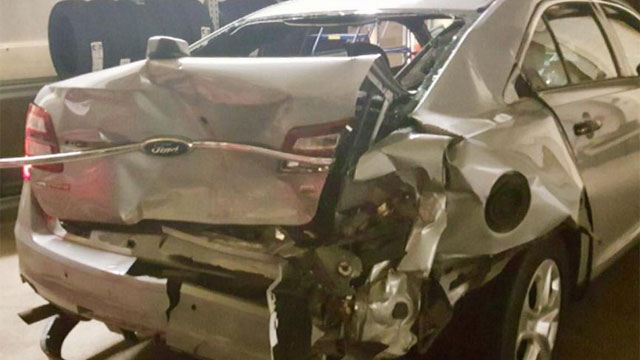 The car damaged in the crash on I-91 on Sunday morning. (CT State Police)
NEW HAVEN, CT (WFSB) -
Police reminded drivers to move over on Sunday after a crash involving a state police cruiser, which is the second in one week.
Troopers responded to a one-vehicle crash and car fire on Interstate 91 near exit 3 around 3:30 a.m.
Authorities said state police cruisers were blocking the left and center lanes, when a 2007 Mercury Mountaineer driven by James Graham, of New Haven, crashed into one of the parked cruisers around 4:20 a.m.
Trooper John Acampora was in his cruiser when it was hit and needed to be extricated due to the damage. Acampora was rushed to the hospital for minor injuries.
The crash is now under investigation. Police said charges were pending against Graham.
Sunday's crash was the second one involving a state police cruiser. State police reminded drivers to move over to prevent future crashes.
The first crash was a two-car crash on the northbound side of Route 7 in Brookfield around 8:30 a.m. on Monday.
State police said the trooper involved was helping a broken down vehicle when the crash happened. A driver traveling in the left lane ended up hitting a car that was broken down on the left side of the highway.
State police said the injuries suffered in the Brookfield crash were "minor" in nature.
Copyright 2017 WFSB (Meredith Corporation). All rights reserved.