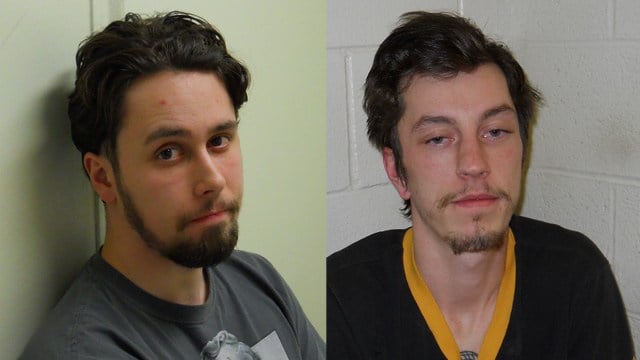 Wesley Hine and Joshua Richardson. (State police photos)
NORWICH, CT (WFSB) -
Two men were arrested on Monday morning for firing a handgun at a state police cruiser in Norwich.
Troopers said 23-year-olds Wesley Hine and Joshua Richardson, both of Lisbon, were stopped and charged after the incident.
It happened along Interstate 395 south by exit 18 just before 2 a.m.
State police said the suspects were driving at the time and fired in the direction of the cruiser as they passed it.
Once stopped, troopers said they found a 9mm Glock 19 handgun. They said they seized it and other evidence.
Hine was charged with unlawful discharge of a firearm, illegal carry of a firearm and first-degree reckless endangerment.
His bond was set at $5,000 and he was scheduled to face a judge in Norwich on Feb. 9.
Richardson faces conspiracy misdemeanors.
His bond was set at $2,500 with a court date of Feb. 9.
Copyright 2017 WFSB (Meredith Corporation). All rights reserved.