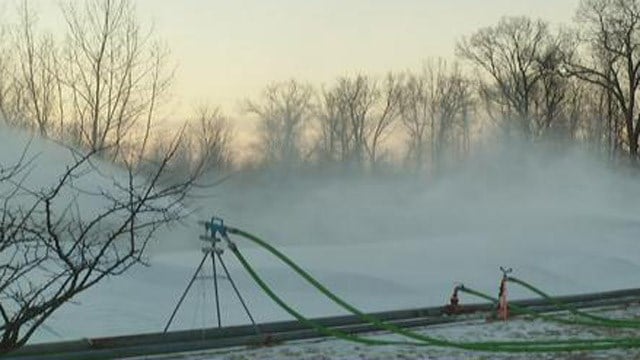 Snow making is under way at Eversource's Windsor location for the Special Olympics. (WFSB photo)
WINDSOR, CT (WFSB) -
Snow making has commenced on Friday for the Special Olympics Connecticut Winter Games.
Temperatures are finally cold enough and the humidity is low, making it the perfect combination for snow making at Eversource's Windsor location.
It's the site for the cross-country skiing and snowshoeing competitions.
The event isn't until March 4 and 5.
However, Eversource spokesperson Mitch Gross told Eyewitness News that they needed to start making the snow a month ahead of time to make sure there's enough.
Eversource said volunteers have set up about 1,000 feet of piping that caries the water and compressed air needed to make snow.
They expected the snow guns to run through the weekend.
The power company said the team of snow making volunteers is the only one in the world that makes snow exclusively for a Special Olympics event.
Eversource is a sponsor of the games.
More information about the Special Olympics Connecticut Winter Games can be found on its website here.
Copyright 2017 WFSB (Meredith Corporation). All rights reserved.