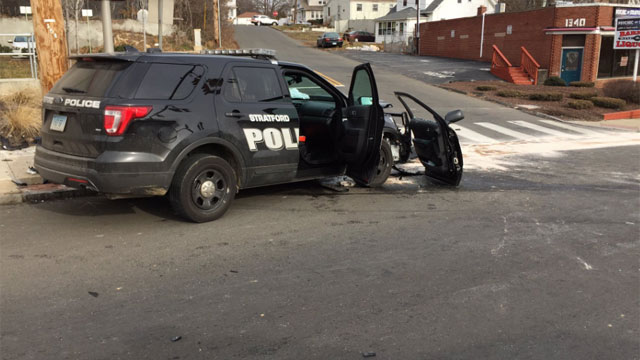 Barnum Avenue was closed after a crash involving a police cruiser on Friday. (@StratfordPDCT)
STRATFORD, CT (WFSB) -
An officer and a driver were transported to the hospital after a crash involving a police cruiser in Stratford on Friday morning.
The two-vehicle crash was reported on Barnum Avenue near California Street around 9:20 a.m. Police said the crash involved "a Honda traveling North on California Street and a Stratford Police Department cruiser traveling West on Barnum Avenue."
Police said both the officer and driver of the Honda were rushed to port Hospital where they were listed in "stable condition."
Barnum Avenue was closed in that area for about two and a half hours, according to police.
Police said Barnum Avenue reopened around 11:50 a.m.
The cause of the crash is under investigation.
Copyright 2017 WFSB (Meredith Corporation). All Rights Reserved.