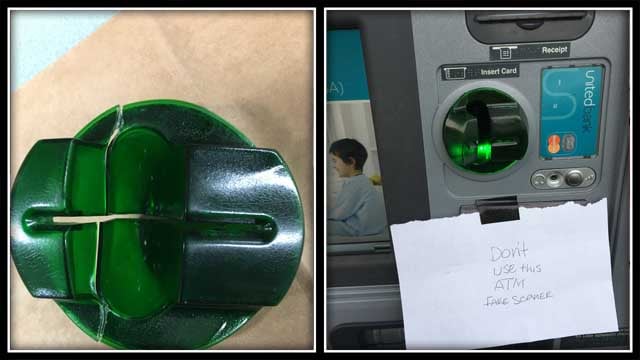 ATM skimmer device found at Manchester bank (Manchester police)
MANCHESTER, CT (WFSB) -
Manchester police are alerting United Bank customers that an ATM skimming device was found at the Broad Street bank on Sunday.
Police said the skimming device was a green, rubberized attachment that was installed over the regular card slot of the ATM.
United Bank is notifying potential affected customers. The bank is also working to determine when the device may have been installed.
Police said several other banks in the state have recently experienced similar situations, and the devices can be found at gas pumps, restaurants/bars, and department stores.
In a press release, police listed some reminders for ATM users:
Jiggle the Card Reader: If the card reader moves around when you try to jiggle it with your hand, something probably isn't right. A real card reader should be attached to the ATM so well that it won't move around — a skimmer overlaid over the card reader may move around.
Look at the ATM Machine: Take a quick look at the ATM machine. Does anything look a bit out-of-place? Perhaps the bottom panel is a different color from the rest of the machine because it's a fake piece of plastic placed over the real bottom panel and the keypad. Perhaps there's an odd-looking object that contains a camera.
Examine the Keypad: Does the keypad look a bit too thick, or different from how it usually looks if you've used the machine before? It may be an overlay over the real keypad.
Check for Cameras: Consider where an attacker might hide a camera — somewhere above the screen or keypad, or even in the brochure holder on the machine.
If anyone witnessed suspicious activity in the area of the United Bank's ATM, they should contact police at 860-645-5510.
Copyright 2017 WFSB (Meredith Corporation). All rights reserved.